COMMUNITY ACCOMPLISHMENTS
Robert Sylk has been The JNF (Jewish National Fund's) www.jnf.org President for the past four (4) years 2016-2019 and has completed his term to be followed by another very capable Board Member. At the last Board Meeting he was elected to be the new 'Chairman of the Board' for the coming year 2020. "I consider this high honor very seriously and I will work hard every day for our wonderful organization and the people and the State of Israel". Thank you, Robert F. Sylk
Robert Sylk, the guest speaker at "The Stand With Israel Night" in Palm Springs, CA along with the Mayor of Jerusalem and Glenn Beck with over 600 in attendance, received a standing ovation for his passionate speech regarding Israel. Mr. Sylk spoke about the years 1945 thru to the present. He opened with "I stand before you today as I again remind myself of those turbulent days after WWII", and ended with " This is our long train of history as our present continues to reconnect to our past." With a glorious 15 minute speech in-between to rousing applause and an award from the children in the audience.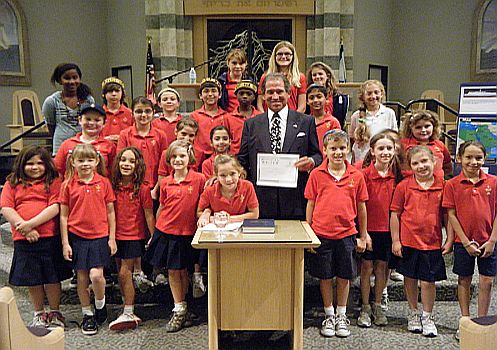 Hi All, we are proud to announce that Robert F. Sylk, is the new incoming Jewish National Fund President for the Greater Palm Springs Area. Robert will begin his term as Co-President on October 1, 2016 and transition to President in 2017. Please read some of his credentials below.
President Trump recognizing his friend Robert Sylk and the hard work as Campaign President in Riverside County and Southern California 2016-2017.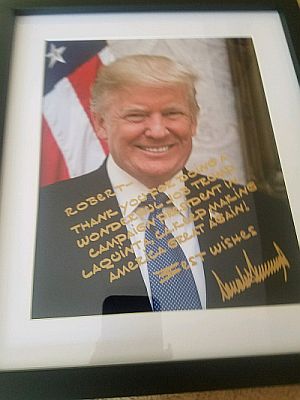 When you touch your name the memories of those days all come back. And you are in a kind of trance for a few moments. July 18, 2017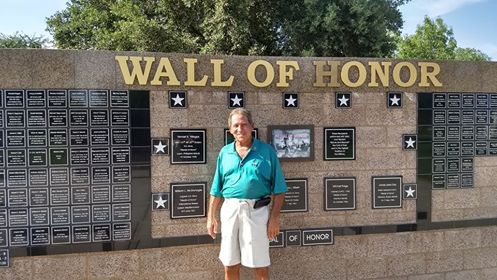 American Legion Plaque at "The Wall Of Honor" Proud of my service to the USA.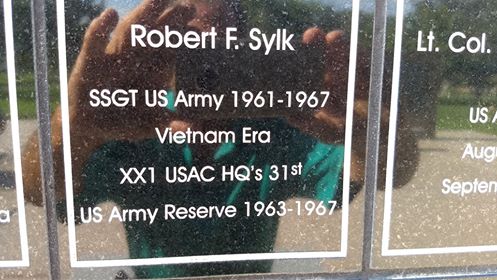 Robert was honored to be appointed as the 2016 Trump Campaign Chairman for the Palm Springs Desert Regional Cities 400,000 pop. Three Hundred (300) of his volunteers made daily calls to the battleground States of Florida, North Carolina, Pennsylvania, Michigan, and Wisconsin and he trained over 35 poll watchers for Election Day. Pictured with Trump and The First Lady at The Freedom Ball in Washington, D.C.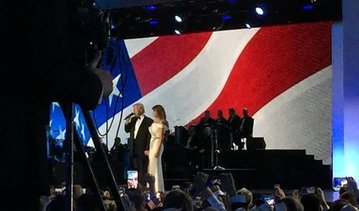 A wonderful evening with 450 friends - Senator Jeff Stone, Mayor Ted Weill & Councilwoman Iris Smotrich among other special guests at our JNF 10th Annual "Love of Israel" Award Dinner. Robert Sylk Palm Springs & Desert Regions Board President Welcome Address. December 15, 2016 "You are the backbone of our region and there is not a day that passes that we at JNF do not appreciate your level of commitment to Israel" from JNF Executive Staff.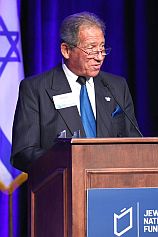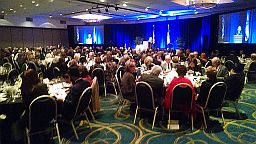 As posted in The Beverly Hills Courier - Desert Roundup
By: Frances Allen
The Westside of LA has no shortage of people to honor for their commitment to charitable causes of all kinds, so you know it's got to be someone special when the Jewish National Fund chooses a La Quinta resident to honor at the JNF's gala in Beverly Hills. He was a past year's recipient of the Jewish National Fund's "Tree of Life" award - given in recognition of community leaders who support promoting peace within Israel and reclaiming the country's arid land - is Robert F. Sylk. "Tree of Life" is an appropriate metaphor for Sylk and his family. Robert's father was one of the true pillars of strength behind the formation of the State of Israel, and the sole person responsible for purchasing the boat that was later memorialized in the book and movie "Exodus 1947" And where Robert's father helped to create the land of Israel, Sylk and his bother Len helped nourish it - with water. Led by his brother Len they were instrumental in constructing one of Israel's largest $50 million dollar reservoirs, named for his father Harry S. Sylk, that not only improved the irrigation of the Land of Galilee, but also made the barter of "water for peace" possible as the main part of the treaty between Israel and Jordan. A former Marina del Rey resident, Sylk moved to the La Quinta Desert, received two (2) Presidential Appointments from both Bush and Obama and while he now has more time to play golf, he's not neglected his true passion: JNF and helping others. Please see www.robertsylk.com/history.php
Donna Raider| Director, Palm Springs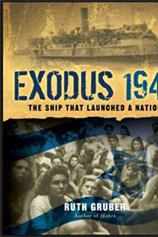 Robert Sylk was elected to the 2015 and 2016 Board Of Directors for The Jewish National Fund's Palm Springs Valley Area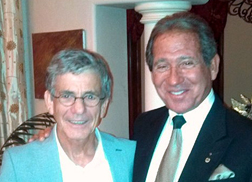 Expanding The Frontiers Of Brain Science November 7, 2013
Robert F. Sylk, evening host with Professor Eilon Vaadia Ph.D in Neural Computation,Director of The Hebrew University Of Jerusalem and leading authority on the brain, nervous system, and motor functions.
This University, ranked among the world's finest, boasts seven (7) Nobel Prize winners, the Fields Medal and many other honors. Brain researchers have achieved international recognition in this field. ie: Enabling the blind to see through sensory substitution, Ameliorate symptoms of Alzheimer's, Treatment for Parkinsons, Paralyzed patients activate robotic limbs etc, and training the next generation of neuroscientists. This evening of learning was truly amazing.
2012 Presidential and Gubernatorial Appointment -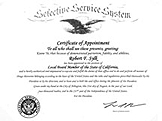 Robert F. Sylk: In the Name of The President of The United States Barak Obama and on the highest Recommendation of The Governor of California Jerry Brown, because of your demonstrated patriotism, fidelity, and abilities, you are hereby appointed by the United States Director of the Selective Service System as the representative Board Member for the State of California, and for Riverside County, California.
Robert Sylk was unanimously elected to be the 2011-2016 Chairman of the newly formed Concerned Citizens of La Quinta, an organization, which he founded, for public discussion of issues of importance to La Quinta.
Robert single handedly Founded CCOLQ which now has over 17,000 members see www.ccolq.org.
Commissioner, City of La Quinta Community Services Vice Chairman (2006-2008)
Robert instituted the Commissioners Art in Public Places tour
Instituted the recreational sports parks, playgrounds and trails tours
Robert Sylk gained 2402 votes in his first run for La Quinta City Council in 2006 and 2008. Five candidates were running for 2 seats.
Board Secretary Executive Committee (2005-2006)
La Quinta Chamber of Commerce
Encouraged Jacqueline Cochran Regional Airport to be at National Level. (Article appeared in Desert Sun and La Quinta Chamber of Commerce Gem. Click here for article text
La Quinta Resident Card Program. "Appeared in Desert Sun editorial Page" Click here for text
Board Member
(2003-2007)
La Quinta Chamber of Commerce
Robert was the first to introduce La Quinta residents to the Residents Card Program
Was the first to introduce expansion plans for the Jacqueline Cochran Regional Airport
Founder and Chairman of Ambassadors Committee
Wrote the training manuals and personally trained over 25 ambassadors in various capacities
Chairman Membership Services Committee
Redesigned Chamber website
Selected new Chamber Logo from over 600 entries
Implemented the Mentor/Mentee Program
Chairman By-Laws Committee
Chairman of Hot Air Balloon Food and Wine Festival (November 2006)
First Vice President (6 years)
Marina del Rey Chamber of Commerce
Co-Campaign Manager and Finance Director, 1970-1978, for Governor of Pennsylvania Milton J. Shapp, originator of the "Peace Corps" for JFK.
Chairman of Los Angeles County Protectors Organization (5 years)
CHP/Sheriff/LAPD/Coast Guard/Fireman/Lifeguard
Founder and Chairman (7 years)
Marina del Rey Food and Wine Festival (over 40,000 attendees/weekend)
Founder and President (5 years)
Marina del Rey Music and Art Festival
Implemented Symphony by the Sea Concerts with 86 member Westchester Symphony Orchestra & Marina Chorale Singers
Solo Pianist with Orchestra
Chief Inspector of 5 Polling Precincts in Los Angeles City and County (10 years)
Riverside County Election Official 2005-2008
Inspector Polling Precincts for La Quinta
Appointed by Governor Wilson to successfully implement the sister city marinas between Marina del Rey and Marina Puerto Vallarta
Appointed by Governor Wilson to Tourism and Trade Commission for California (3 years)
Board Member Los Angeles County Department of Beaches and Harbors (7 years)
Board Member Bob Hope Greater Los Angeles USO (10 years)
President Cornerstone Club-Southern California (10 years)
City of Hope Man of the Year (1997)
Founder and President of City of Hope, Marina del Rey/Venice Branch with 500 members (1992-1998)
Appointed by President George Bush Sr. to Russian-American Economic Aid and Business Training Commission
Received Prestigious State of Israel JNF Tree of Life Award (2002)
Presentation by Vice President Al Gore and L.A. County Sheriff Lee Baca
Scholarship Selection Committee
Boys and Girls Club of Venice, California
Led the Sylk Group in the attempt to move the Queen Mary ocean liner from Long Beach to Marina del Rey. Marina Director, Ted Reed, Robert, and the Coast Guard took soundings and the ship could not enter the Marina channel.
President of Park Town Place, a 4,500 member Residents Association in Center City, Philadelphia, PA from 1978 to 1987.
President (2003-2005)
Home Owners Association of Talante, La Quinta

Member Riviera Country Club
Member Rancho La Quinta Country Club
Proud Member of "The Lincoln Club of Coachella Valley".
Member Masons Equity Lodge 591
Member United States Holocaust Museum, Washington D.C.
Life Member of Veterans of Foreign Wars
Life Member American Legion
Member of California Yacht Club (1987-2010)
Board of Directors, NASDAQ Corporation (5 years)
Save the World Air, Inc.
United States Army, Honorable Discharge
Security Clearance "Secret" with FBI during Army tenure
Robert Sylk's name was inscribed in both the West Coast Vietnam Veteran's Wall at the General Patton Museum as well as the one in La Quinta in acknowledgment of his military service to his country.
An Editorial item published in the Desert Sun in June of 2008 can be attributed to Robert Sylk.
"Celebrate Grandfathers"
I strongly feel that every year on Father's Day we should also celebrate Grandfather's Day at the same time. continue...
Robert was appointed to serve on the La Quinta Cove Oasis Trails Committee

The Flag is precious symbol. When I see our flag being burned and in flames, I am outraged. read more...

Pictured left to right: Glenn Miller Candidate for CA Senate 28th District, La Quinta Postmaster Ray Rodriguez, and Chairman Robert Sylk November 12, 2013


Robert playing piano at the Marina del Rey Music and Arts Festival.




Over 40,000 people attended the Marina del Rey Food and Wine Festival.


Robert with Los Angeles Mayor Richard Riordan on a
bicycle fundraiser.





Robert and his winning team members of the La Quinta Mayor's Cup Golf tournament presented by Mayor Don Adolph on the left


As President of City of Hope he wanted to form a new chapter in the Alaska Tundra with Libby Riddles (the first woman to win the Iditarod dog sled race) but was turned down for obvious reasons.
















Marina del Rey's 50th Birthday